When: July 23rd– July 30th
Where: Villa Lucia,  Paestum,  a comfortable, modernized villa with gardens, terraces, and air-conditioning, a five minute walk from a beautiful Paestum beach. Students also have time to relax and process what they are experiencing and learning at HSABC.
From our home-base in Paestum, HSABC  will visit Paestum, Pompeii, Naples, and the Amalfi Coast . In-depth exploration and study of the ancient Greek city of Paestum and the Roman city of Pompeii
Classes During HSABC Pompeii/Paestum:
Students have some classes on-site, some at Villa Lucia.
Your Paestum (or Your Pompeii): Writing about what we see;  Students learn to engage and write individually  about what they see on-site; We use brief excerpts from Vitruvius and Homer  (and others!) as  sources of inspiration.
Sleuths of the Past, techniques of archaeology and the archaeological imagination. Students study the methodologies and work of great seminal archaeologists (from Schliemann to Mauri ) and experiment with them on-site.
Survival Italian; ( a very short class, usually 20 minutes a day)  to help get oriented at sites and site-museums, and to order your favor flavor of ice cream (with whipped cream!) Includes short readings in Italian, about what we see that day.
Spotlight on Paestum, Spotlight on Pompeii: These are discussion classes in which students study specific monuments or works of art in Paestum or Pompeii. Typically, we will look at two or three images a class, and HSABC faculty will ask students a series of questions, This class helps students develop both their abilities to observe and their archaeological intuitions.
HSABC  Goes South Itinerary: July 23rd -July 30th
Day 1 :  Departure for Paestum! We stop  on our way. at the beautiful  Roman Sanctuary of Palestrina  with its colorful Nile mosaic. Arrival and dinner at Villa Lucia, Paestum. Ice cream at the temples  (illuminated at night!)
Day 2: Paestum, the ancient Greek city  (the civic spaces and the temples) Paestum's archaeological museum. Using their research, students act as tour guides for the rest of the group. Paestum festival ballet or concert.
Day 3 :Amalfi Coast tour– lemon groves, festivals, and breath-taking view of the sea. We stop in Vietri for the famous ceramics, Minori for the Roman villa with its whimsical mosaics and the charming little city itself and its typical cakes, and Amalfi with its beautiful cathedral and Moorish garden of paradise. Dinner: a local (excellent!) trattoria at the top of Amalfi.
Day 4: Pompeii (the public and private spaces) we tour the whole amazing city – baths, theaters, amphitheater, forums, temples and as many houses as we can. Picnic lunch in the shady 6th c b.c. triangular forum. Using their research, students act as tour guides for the rest of the group.
Day 5: We are in Naples. We visit the wonderful archaeological museum which adds so much to students' understanding of Pompeii, and tour this exuberant city itself, its, markets, squares, lively baroque architecture and cafés. Lemon ices at the bay of Naples. Dinner at De Matteo (deservedly famous pizzeria).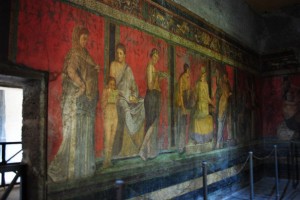 The "Villa of the Mysteries" in Pompeii
Day 6: We tour the ancient Greek city if Velia and then relax at the beautiful nearby beach of Palinuro and visit the famous blue grotto by boat.
Day 7: We visit the ancient Roman city of Herculaneum with its elegant frescoes and then tour the Roman city of Paestum built on top of the old Greek city.
Day 8: Good-bye, Paestum! Departure for airport or for our archaeological week in Rome.