LEARNING AT HUMANITIES SPRING IN ASSISI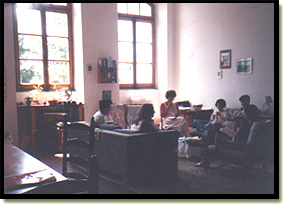 At HSIA, students learn to connect individually to great works of art and architecture, from classical to contemporary. HSIA is committed to the belief that great art and literature can make students' lives happier and more complete, help them to solve problems and to understand themselves better. Most students take 3 morning classes and 1 afternoon activity, but every student is free to design his or her own individual curriculum at HSIA.
Students have concentrated on everything from Italian language and literature (it is possible to take up to 3 hours of Italian each day at Humanities Spring!), Latin inscriptions, and Renaissance Art to gardening, the study of herbs, creative writing and sketching. We find that diverse interests make the HSIA experience richer for everyone. As we are a small program, staff can really listen to students and encourage their interests and curiosity, both inside the classroom and out, when we are at our home base in Assisi or when we are away on trips. Conversation, between students and students, between students and staff (and between staff and staff!), is at the heart of the Humanities Spring experience.

 HSIA CLASSES 
Italian 1: Intensive 1st year grammar, conversation, and fun compositions, with (not too difficult!) readings from Italian fables and fairytales (from 12th c. to contemporary).
Italian 2: We read and discuss (in Italian!) 20th c. Italian poetry or prose and study grammar in the context of what we read (especially the subjunctive!). This year's theme: Calvino's Invisible Cities and writing about cities, your hometown and others.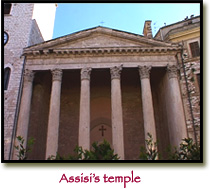 The Italian Renaissance, Age of Experimentation:* We concentrate on three innovative early Renaissance figures: Giotto, Dante, and St. Francis, in the context of Assisi, city so important for all three. Students keep a journal or sketchbook for this course and learn to engage in individual (and fruitful!) conversations with related works of art.
Classical Poetry in Context, the Latin Seminar:* Propertius's poems in relation to the archaeology of Assisi, his hometown – epigraphs (many in situ), amphitheater, temples, the frescoed casa di Properzio, and more! We also do a short unit on Ovid and the Roman paintings we see in Pompeii and the Archaelogical Museum in Naples.
Classical Poetry in Context, the Greek Seminar :* Students read passages from Homer's Iliad andOdyssey in connection with the wonderful examples of ancient Greek (and related Etruscan!) art and architecture we travel to see. Vase paintings and paintings, statuary, painted tombs and more!
*Students need have no previous or background knowledge of Greek, Latin, or Italian, art history, etc. to sign up for any HSIA classes. The only prerequisites for all courses are enthusiasm and the desire to learn!!!
HSIA AFTERNOON ACTIVITIES
Not all afternoon activities are offered each year; offerings are decided on the basis of student (and staff!) interests each summer.
Landscape Paintings, Painting Landscapes: Students sketch and paint landscapes around Humanities Spring and when we are on trips. Students also create a mini-history of landscape paintings, based on where we have been on trips.
Garden Benches, furniture for the out-of-doors: Students observe examples of outdoor furniture (in Pompeii, Renaissance Parks, etc.) and then design and construct their own garden bench when we are back home in Assisi.
Collage as a way of seeing: Students make collages of the places we visit which then become visual souvenirs of where they've been. They also study the history of collage and pastiche, from Roman still-lives to Rauschenberg.
Pastoral Poetry, June and July poems: Students read pastoral poems and calendar from Theocritua to Pope to Pound, go for walks in the fields and woods around Humanities Spring, and write their own June and July poems.
Cooking in Italian, tiramisu and more: Students learn (in Italian!) to make pizza, lasagna, local Umbrian specialties, and a variety of Italian dolci (desserts).