At HS Kids: Actors, Sculptors, and Cooks!, students live the English language in week-long full-immersion camps at our home-base in the hills outside Assisi. Subasio National Park, Assisi. Students may elect to do from one to four weeks of HS Kids.
Kids from 7 to 16 years old (Kids are divided into age-appropriate activity groups once they are here) learn English by experiencing the language directly. Students cook, put on plays, garden, make sculptures, write compositions (my HS diary), go on nature walks and trips, draw, swim in the beautiful natural springs near HS, play board games and traditional American and British outdoors games — all in English, of course! HS Kids teachers are specifically trained to help students engage enthusiastically in HS activities and become fluent in English in the process.
Hs Activities
Mornings
Every morning, kids are divided into 3 groups: actors, sculptors, and cooks. The actors memorize their lines, rehearse, and then perform a short (usually very funny) play every morning — in English, of course! and make their own improvised costumes and props as well. Favorites from past summers have been
: Happy Birthday, Cookie Monster, The Rainbow Fish, Martha, the Magic Dog, Caps for Sale, and many others! HS Kids actors perform outside, before lunch, on the HS lawn.
Our HS Kids cooks make traditional American (and English) cookies,  cakes and desserts every morning, which then become our dessert of the day (after lunch). HS Kids cooks begin by playing games to help them master vocabulary. Then they read the recipe in English, assemble ingredients, and get down to the business of baking, learning and using appropriate phrases and words as they go: Pass me the chocolate, please. Where is the milk? In the fridge, on the second shelf,  etc. After cooking, HS Kids tidy up the kitchen, in English, of course!
Our HS Kid sculptors first go for a walk with our art teacher in the  fields and woods around HS and collect natural objects they find beautiful — pine cones, leaves, flowers, bark etc. Next, with glue, string and paint, they create their own individual harmonious sculptures.
 Last summer, our HS Kids art teacher worked with the concepts of balance and asymmetry. Kids often write brief descriptions of their sculptures (in English) when they have finished constructing them.
Before lunch, every HS Kid writes a few sentences in English with the help of HS staff about what his or her morning activity. Each kids then memorizes what he has written and recites it to the rest of the group at lunch. Older kids typically memorize 5 -6 sentences; our younger students 2 or 3; our youngest 1 or 2. But not always! Sometimes our littlest HS Kids surprise us all and recite whole paragraphs!
Staff speak English at lunch (and all day long!), but kids are free to speak in their own language at meals. Often they are tired out from their English mornings. The atmosphere at HS Kids is relaxed; we want speaking English to be a delight and a game and at HS Kids it is! We think it is important for the children to have time to relax, too and to have some free time after lunch to play with the rest of the HS kids.
Afternoons
Students have a different afternoon activity every day. Mondays: The kids create and bind their own individual and unique (and beautiful!) diaries which they use in our after-dinner activity My HS Diary.  These diaries become very precious to our students. They are a big part of them beginning to feel at home in English, to appropriate the language and feel that it is theirs. At our last day party, at the end of each week-long session, kids read excerpts from their diary in English to the rest of the group; students often translate what they have read  into their own language for parents who may not have understood. Even our youngest students (our seven year olds),  are proud of their diaries (which they have themselves created, written in  every evening, often with whimsical illustrations) and participate in this last-day party activity with enthusiasm. Tuesdays: group hike to the beautiful nearby spring with waterfalls where we all swim together. On the way to the springs, every student must write at least one sentence about something beautiful they have seen. Students also often make a sketch as well. We ride back home after our swim in the HS van.
Wednesdays: HS Kids goes on trips — to Assisi, to Villa Fidelia with its beautiful 18th century gardens, to Bomarzo, the Renaissance park with monster sculptures, or Perugia's underground Etruscan tombs. We choose our destination based on our group each week. Younger groups often make the shorter excursions to places closer to HS. Students do research and act as tour guides on our trips (in English); even our youngest students must write a few simple sentences.  (This tomb is from the second century b.c. It is an Etruscan tomb. It was for one family). Older students write and memorize whole paragraphs and use more complex, sophisticated language. . Hard as it may be to believe (and we were astonished ourselves at first) kids, from the youngest to oldest, embrace this activity with gusto and do an excellent job with it.
Some Wednesdays, instead of going on trips, HS kids stays at home to do projects in the HS garden; a favourite gardening project over the years has been the constructing and then painting of small weeding benches. Each student's bench is always different from the next; some paint landscapes on their benches, other come up with lively abstract patterns. Our HS art teacher and our HS carpenter run this activity together.
Wednesday evenings, we all make pizza together with everyone's favourite toppings. Phrases Wednesday evenings often include: More mozzarella, please! I like pizza with mushrooms or I'd like some pizza with sausages please.  Me, too!
Thursday afternoons: art and poetry workshop: kids draw a painting of a landscape or view around Humanities Spring and then write brief poems about the same view in English. We find that doing things in another language makes kids more adventurous, more willing to try new things and experiment!
Evenings at HS Kids
The My HS Diary is a key activity for Hs Kids.  Every evening, after dinner, our Hs Kids teachers, students, and director gather together to work on Kids' diaries. All students use the past tense when writing about how they have spent their day. The younger students learn the few verbs they need: Today, I baked a cake! It was very good!  Older students actually study the past tense, and learn slowly, sentence by sentence, how to use the simple past and the imperfect in English. It happens naturally; the grammar becomes a part of their lives. Staff student ratio is high (1:3 or 1:4, depending on the week); all students are able to go at their own pace and get a lot of individual attention and encouragement. After diaries, Kids  play card games and outside games with HS staff.
A Typical Day at HS Kids

8:30: everyone wakes up! 9:00 breakfast 9:30- 12:00: Cooking, theater and sculpture labs 12:00: the day's play is performed — in English! 1:00 lunch with a scrumptious dessert prepared by our HS Kids cooks. Everyone says a sentence or two in English about their morning before lunch begins. 2:30- 4:00: free time 4:00 – 7:00 HS Kids hikes to the springs and goes for a swim! 7:30: dinner 8:30: my diary 9:00: card games, board games, and traditional outdoors games (all in English, of course!) 22:00: bed time for younger campers 22:30: bed time for older campers
HS Kids Method
At Humanities Spring, we believe in applied grammar. That is, we think that the best way for a child between the ages of seven and sixteen to learn the past tense is to have to write a composition about what he or she did that day; or the best way to learn the imperative, is by learning to ask someone to pass you the eggs in another language. Grammar in this way becomes a fragment of life, and a tool for living, rather than an abstraction, simply to be memorized. At HS Kids, students begin to relax and feel at home in English. Slowly, the language becomes a part of their experiences and a permanent part of their lives.
What to Bring (the extras you might not think of…)
A set of old clothes you don't mind getting dirty (very dirty!)  – For Wednesday, our project and painting day
 Comfortable walking shoes and slippers to wear inside at HS
A bathing suit
Colored pencils and drawing paper
A pair of long pants and a long-sleeved shirt
A warm sweater or summer jacket (Evenings in the hills around Assisi can be cool).
The spirit of adventure
Dates and costs Summer 2017
There will be 8 week-long HS Kids sessions in Assisi this summer (and 1 in Rome for older kids from 7/30 to 8/06). Students may elect to come to from one to four sessions:
1st Session: 6/18 – 6/23
2nd Session: 7/23 – 7/28
3rd Session: 7/30 – 8/4
4th Session: 8/6 – 8/11
5th Session: 8/20 – 8/25
6th Session: 8/27 – 9/1
7th Session: 9/03 – 9/08
Cost for your first HS Kids session: 450 USD  + 50 USD for the HS association fee. A second session will cost 400 USD, a third 350 USD, a fourth 300 USD, Discounts for sisters and brothers.  There is a 50 USD discount if you sign your child up before May 15th. If you have any questions about HS Kids 2017, please feel free to write us with them at info@humanitiesspring.com or to call us at 011-39-075802400 or 011-39- 3206755874 (+ 6 hours Eastern Standard Time). To fill in your HS Kids 2017 enrollment form, please click here.
HS Kids July
If you can't come in June or in August this year we also have Humanities Spring Kids July, at the beautiful country house Casale Bosco, in Gubbio. You can fill your application form for HS Kids July by clicking here. HS Kids July will have 4 sessions:
 1st Session: 6/28-7/3
 2nd Session: 7/5-7/10
 3rd Session: 7/12-7/17
 4th Session: 7/19-7/24
For more information write us to info@humanitiesspring.com or to teresascattoloni@hotmail.it
HS KIDS ROME 2° EDITION 2017
For older kids, over 13
7/ 30 – 8/06
*** Those who wish to pay with PayPal should add a 5 % commission to the amount paid.
HS MINI-WEEKENDS 2017
A HS Kids mini-weekends con pernottamento, i bambini e ragazzi (da 7 ai 14 anni) vivono con gioia e profondità la lingua inglese e, piano piano, rendono la lingua la loro. A HS Kids, l'inglese non si studia ma si vive attraverso laboratori di teatro, cucina ed arte. In più, ogni week-end ha un tema, che i ragazzi e bambini approfondiscono con attività specifiche, divertenti e significative.
I mini-weekend HS Kids, esperienza intensiva e diretta della lingua inglese, fanno parte del nostro progetto continuità. Sono un seguito alle nostre settimane estive di full-immersion English per ragazzi dai 7 ai 16 anni, che si svolgono da giungo a settembre. I mini-weekend vanno bene anche per i nuovi soci!
La sede di Humanities Spring si trova in un' ex-scuola nelle bellissime campagne di Assisi, all'interno del Parco Regionale del Subasio. Ci sono momenti di relax in cui i piccoli soci vanno a raccogliere meli o noci, foglie o fiori, in base alla stagione.
HS Kids mini-weekend è anche cultura: nel contesto dell'allegria e condivisione in weekend di festa, i ragazzi vivono le tradizioni e la cultura inglese, irlandese e statunitense — dai soul cakes (dolcetto dell'anima) di Halloween alla gratitudine al centro della festa del Ringraziamento agli addobbi tradizionali fatti con con natural objects che rendono omaggio alla bellezze della natura**.
Mini-weekend winter 2017: 3 appuntamenti
le date
Halloween: dal 31/10 al 1/11 (1 pernottamento)
 Thanksgiving: dal 24/11 al 26 11 (2 pernottamenti) 

Christmas: dal 1/12 al 3/12 (2 pernottamenti)
I costi*
Halloween: 105 euro*
 Thanksgiving : 140 euro*
 Christmas: 140 euro*
per i secondi figli o per chi opterà di fare due week-end ci sarà uno sconto di 25 euro sul secondo week-end!
La quota associativa
Per i nuovi, la quota associativa (che si paga soltanto una volta ― dopo si è soci a vita!) è di 35 euro per un bambino o 40 euro per tutta la famiglia.
*Humanities Spring in Assisi è un'associazione culturale di promozione sociale. Offriamo sconti ed anche borse di studio ai soci perché per noi è importante che i nostri corsi siano per tutti!
**E questi natural objects si ritrovano per fortuna anche nel parco del Subasio dove si trova Humanities Spring Kids.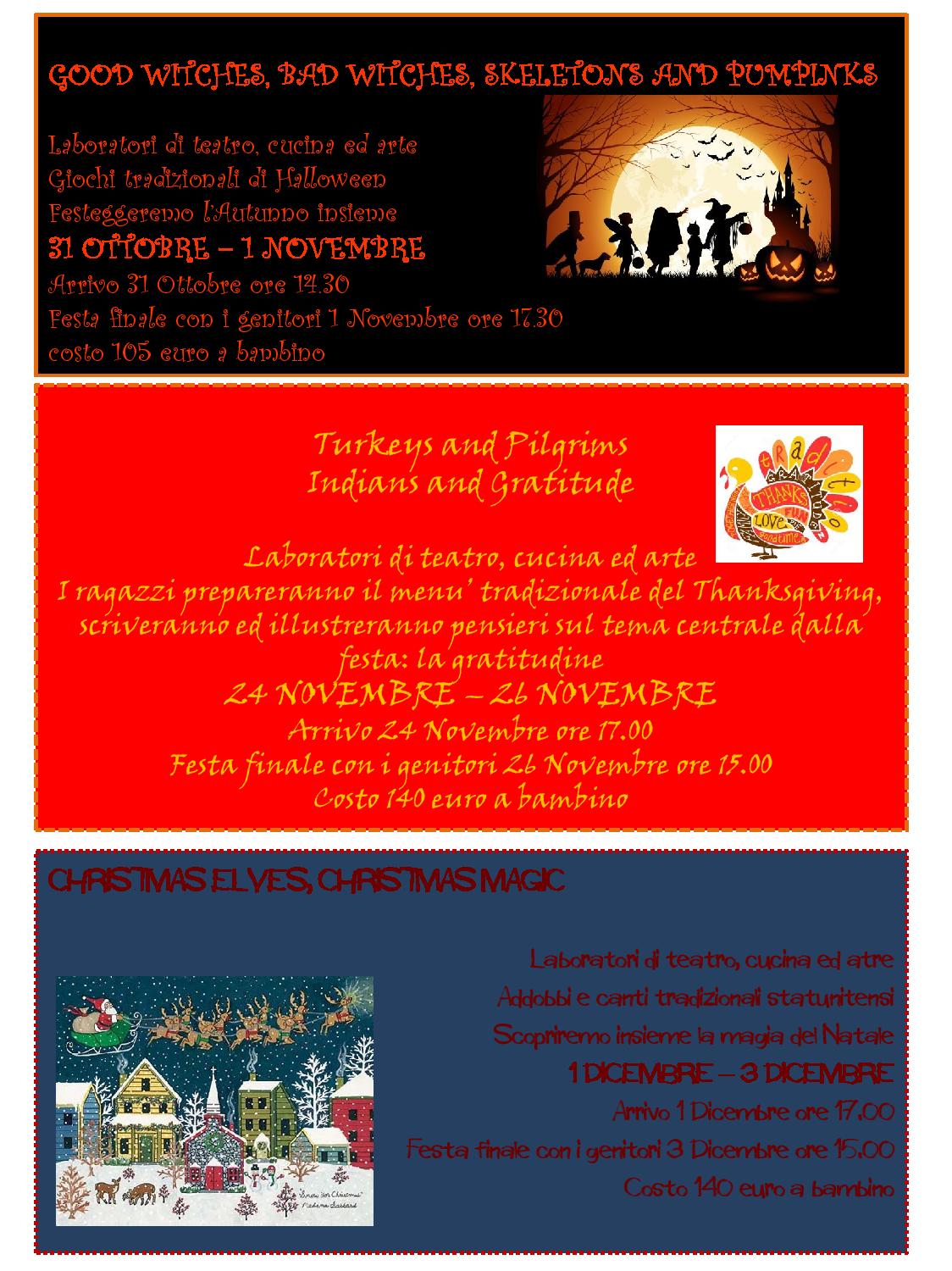 Who we are…
Humanities Spring has been organizing courses and trips for children, kids and adults (both Italian and American) since 1991. The HS kids courses are held in our home base in Assisi, in the Subasio Montain National Park. HS Kids teachers are gardeners and photographers, amateur cooks, and painters, all committed to the idea of learning through play and hands-on activities. Our director Jane Oliensis, born in NYC, got her degrees at Harvard and Columbia Universities in Classics and English. A professor at Perugia University for several years, she now dedicates herself exclusively to Humanities Spring activities. At the core of our association are our wonderful students, both Italian and American, who often return to HS as young teachers, as will be the case this summer in Assisi at HS Kids.