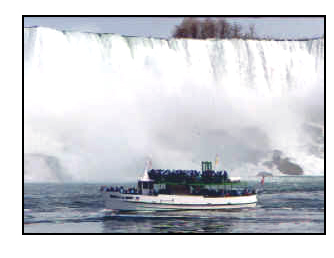 HSNY in Niagara: Optional scenic trip by train to Niagara Falls and Buffalo. Students visit the breath-taking falls, take the Maid of the Mist boat ride, and then see the light show at the falls at night. Next a.m: exploration of the falls and then — Buffalo: bookstores, funky cafés, and the wonderful, world-famous Albright-Knox Museum of Contemporary Art. In the evening, a play by Shakespeare-in-the-Park in Buffalo's Delaware Park. HSNY in Niagara fee: 375 euros (minimum 10 students), includes roundtrip train fare, falls and museum admission, boat ride, Niagara hotel (1 night) and Buffalo hotel (1 night).
HSNY in Philadelphia:
Day trip to Philadelphia — the Liberty Bell, the Historic Franklin Park, the wonderful Philadelphia Museum of Art, the Rodin Museum and the charming atmosphere of this early colonial city's cafés.
HSNY in Philadelphia fee: 100 euros
10 more days at the Y: HSNY students may extend their stay at the Y for an additional seven days. Students continue to use all Y facilities (kitchens, pool, fitness center, etc.) and are free to organize their time as they wish. 7 more days at the Y fee: 150 euros.
Accommodation Extras: Your own room at the Y Single Room at the Y supplementary fee: 250 euros * Married couples may also request Y couple rooms on their enrollment forms (no supplementary fee).
HSNY LINKS
Would you like more info on some of the places we'll be visiting next summer? Visit the following HSNY links: