When: July 18th – July 22 nd
Where: our HSABC home-base, a turn-of–the-century schoolhouse in the hills outside Assisi, Umbria.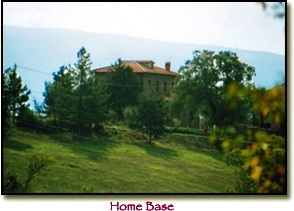 HSABC starts out with an intensive five-day orientation period in Umbria, Italy. From our home-base in Assisi, students visit many different sorts of small (and therefore more manageable) Roman sites, and in the process, become familiar with the component parts of a Roman city — both its private and public spaces. They are introduced to the structure of the Roman house  by climbing down into an underground 2nd-century Etruscan tomb, built to imitate the shape of a Roman house. Or they learn about the component parts of a Roman bath by visiting the small bath complexes in nearby Bevagna and Perugia. Or they learn about 3rd-style Roman frescoes (like the ones they will see in Pompeii) by looking at Assisi's whimsical Volta Pinta,  a Renaissance work which celebrates and imitates this Roman style. By visiting these and many more sites in Umbria, students learn about the vast field of classical archaeology first on a small scale; this gives them the tools and confidence to explore and discover for themselves Pompeii and Paestum and Rome too (if they elect to participate in our extra archaeological week there).
Students also spend two mornings and one afternoon doing  research in our HS library on one Greek and one Roman topic (which they have selected from our HSABC topic list). Then, when we are down south on-site , each student acts as a tour guide for the rest of the group. During research sessions, HS staff are on hand to help — to give suggestions, suggest parallels, or help make connections. Student presentations include everything from hand-written notes to sketches to power-points — what is important is  that each student illuminate (in his or her own way) aspects of these ancient cities constructively for the rest of the group.
HSABC Itinerary: July 18th – July 22nd 
July 18th: pick-up at Rome Airport; ice-cream after dinner at the Temple to Minerva (Assisi)
July 19th: Introduction to the Roman city:  Roman Assisi (walls, gates, fountains,  forum, temple. tombs). Deciphering Inscriptions in-situ, a translation lab at the Assisi Archaeological Museum;
July 20th: Introduction to the Roman City II: Theaters, amphitheaters, Basilicas and Baths. Tour of Roman Perugia and Roman Bevagna.
July 21st: Introduction to the Roman house I: the House of Propertius Assisi. Introduction to the Roman house II: the Ipogeo dei Volumni. Evening at Umbria Jazz Festival in Perugia.
July 22nd: HSABC explores Villa Fidelia in Spello;  Assisi: city or sanctuary? Student research and debate.