Humanities Spring in Assisi is a travel-study program based in a turn-of-the-century schoolhouse in the hills outside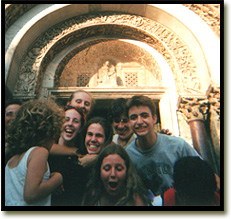 Assisi, where students get a direct experience of Italian culture and art, from merenda and festivals to Michelangelo, piazzas, ancient forums, hay-making, and impromptu jazz concerts.
Students have classes in the morning and then make related afternoon, day, and weekend trips to see some of the greatest art and architecture of all times – Greek, Roman, Medieval, Renaissance, and Contemporary! Assisi is our home base and primary source, but all of Italy is our source book. HSIA travels north to Florence, east to Ravenna and west to Tarquinia. In their last week (July 23rd – July 30th) students travel south to explore the Amalfi coast and Naples and to study in-depth the ancient Greek and Roman cities of Paestum and Pompeii. This year, students can also choose to spend an extra archaeological week in Rome, from June 31st to August 6th.
Whether they are watching a contemporary dance troupe perform in a Roman theater, or just sitting relaxing in a Renaissance garden full of nymphs and satyrs (well, the statues of them) or climbing down a monumental Etruscan well, students experience Italy first hand. At HSIA, the Classical and Renaissance worlds come to life for students and become a part of their lives.
HOME BASE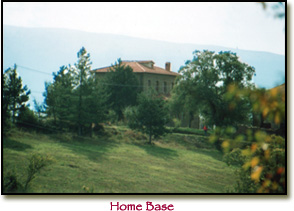 Home base at HSIA is a large rambling three-floor Santa Maria di Lignano country schoolhouse, in the breathtaking Subasio Natural Park. Humanities-Springers live in double or triple rooms (each room, with its nooks, crannies, and lofts, is different from the next!) with views of fields, plum trees, mountains, ducks, kittens, and dogs. Students go for walks, bike, swim in the (cold!) natural springs (with waterfalls!) and have the peace and quiet to assimilate the wonderful art and architecture they see on trips. Students may also live with our neighbors Vittorio and Elia, and can help with their farm work, making hay (a favorite!) feeding the animals, or picking flowers to make the petal-perfumed water for the mid-summerfesta of San Giovanni.
Our HSIA mini-van takes students into Assisi all day long – a small beautiful city in central Italy, important both for Roman archaeology (temples, amphitheater, frescoed domus, stadium, forum etc. and its Latin inscriptions, many still in situ!) and as the cradle of the Italian Renaissance. Assisi is home to Italy's first Gothic church, and Giotto did his first great work here. Slowly, this little city, with all the beauty it contains, becomes home.
STUDENTS AND STAFF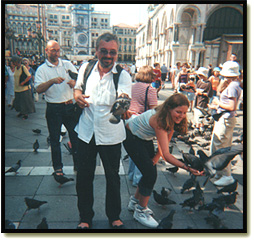 Humanities Spring in Assisi is for students interested in poetry and in art, in ice cream, classics, adventure, and a direct experience of the Italian language and culture. Humanities-Springers over the years have been particularly interested in Ovid, Michelangelo, writing poetry, making hay, architecture, contemporary art, and adventure. We find that different backgrounds and outlooks make classes and trips more stimulating and fruitful for everyone.
We are a small community – usually about twelve students – and each student is cherished for his or her uniqueness. As a community, we encourage tolerance and the courage to criticize (gently!) and to disagree. This makes for a spirit of jokey and compassionate freedom – at meals, on trips, and in class. Our staff includes art historians and painters, poets and archaeologists. HSIA fosters the spirit of collaboration. At HSIA, we all learn together.
Student Comments
"This experience was beyond amazing. I learned so much about myself and about the world around me."
Jessica R., Virginia
"I've never laughed so much in my whole life."
Caroline A., New York
"You filled in the gaps so beautifully – in Greek art, in Italian Medieval painting. Thanks so much."
Jennifer S., New Jersey
"I'll be interested in seeing how all the great sculpture I've looked at while I've been here will affect the way I sculpt when I'm back home."
Leila N., Massachusetts
"I love Humanities Spring."
Ghambele J., New York

                                                                                  OUR DIRECTORS
Born in NYC, our director, Jane R. Oliensis, got her degrees at Harvard and Columbia Universities in Classics and English. Professor Oliensis has taught at high schools and universities on both sides of the Atlantic. Favorites courses over the past few years have included Homer and Greek Vase Painting at Humanities Spring, andThinking about Time, Tense in Poetry from Shakespeare to John Ashbery at the Unversità degli Studi di Perugia, which she left in 2006 to devote herself full-time to Humanities Spring.
Professor Oliensis is also a poet and translator, and her poems have been published both in English and Italian. She started Humanities Spring in Assisi in 1991, after discovering the difference Italy can make to classical and renaissance studies. Being in Italy "animates the words of infinite scores of texts, (Greek, Latin, Italian, and English), transports them from the page to their artistic and historical contexts, makes them fragments of reality." Professor Oliensis lives in the hills outside Assisi with her family, two dogs, and four cats. She agrees with Horace that all true learning should teach and delight.
Marinella Caputo, professor, curator, and critic, got her degrees in Classical Archaeology and teaches Art History at the Istituto d'Arte di Perugia. She became co-director of HSIA in 2005. She has done research in archeology and art history (from classical to contemporary) and is widely published in scholarly journals, art reviews, and catalogues. Specialized for the last ten years in the contemporary, Professor Caputo has curated exhibits of contemporary art all over Italy, and lectured on contemporary themes at universities and cultural institutes both in Italy and abroad. She encourages creativity in her students, and believes it is important for teachers and students alike to be continually inspired by the art and architecture they see – both in their work and in their lives. She has taught classes in Italian, archaeology, translation, and art history at Humanities Spring for over 10 years.
                                                                                        AND OUR STAFF
We are a not-for-profit cultural cooperative with a core group of teachers who sometimes teach in Assisi, sometimes in New York, sometimes London.  Last year, our Assisi staff included Jane Oliensis, poet and classicist, Marinella Caputo, art historian and curator,  Alessandra Pantella, archaeologist with a specialization in epigraphy and city-planning, Norman Maclean, painter and Classics-in-Translation and Art History teacher, and Marianna Costi, architect and photographer. Our teachers often wear different hats. Professor Maclean for example, co-taught the Greek and Latin classes and did the landscape painting afternoon activity — a great success! Professor Costi, on the other hand, helped students with on-site sketching and photography last summer, and gave them a mini-course on architecture and how to read buildings, wherever we went.